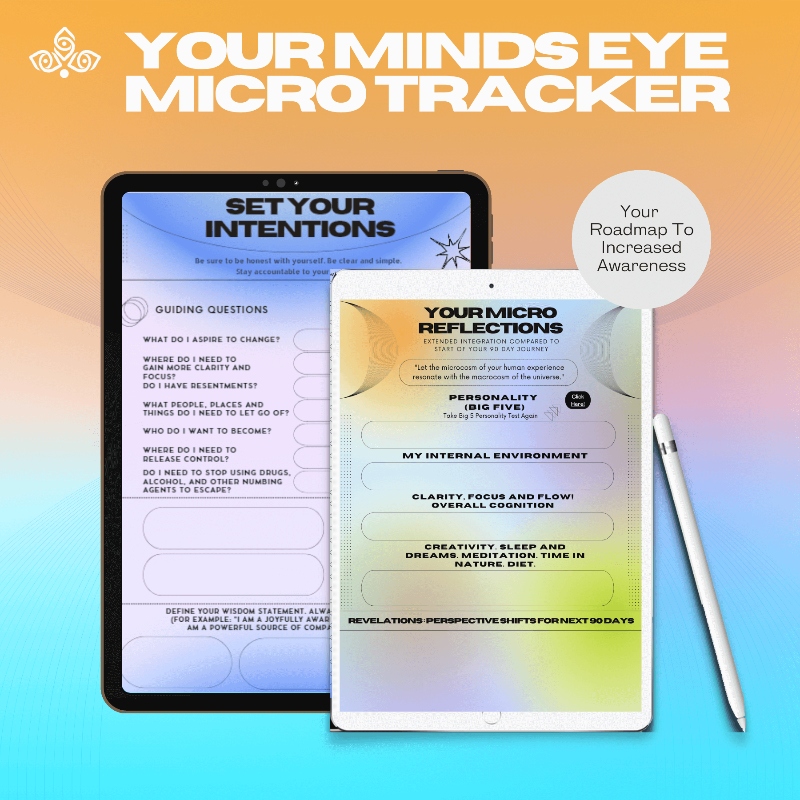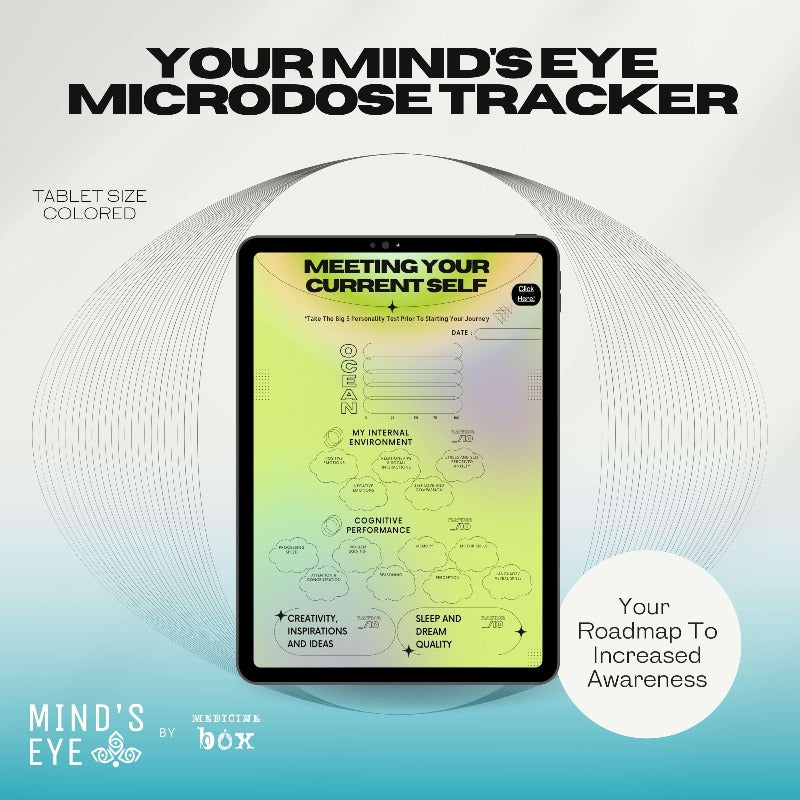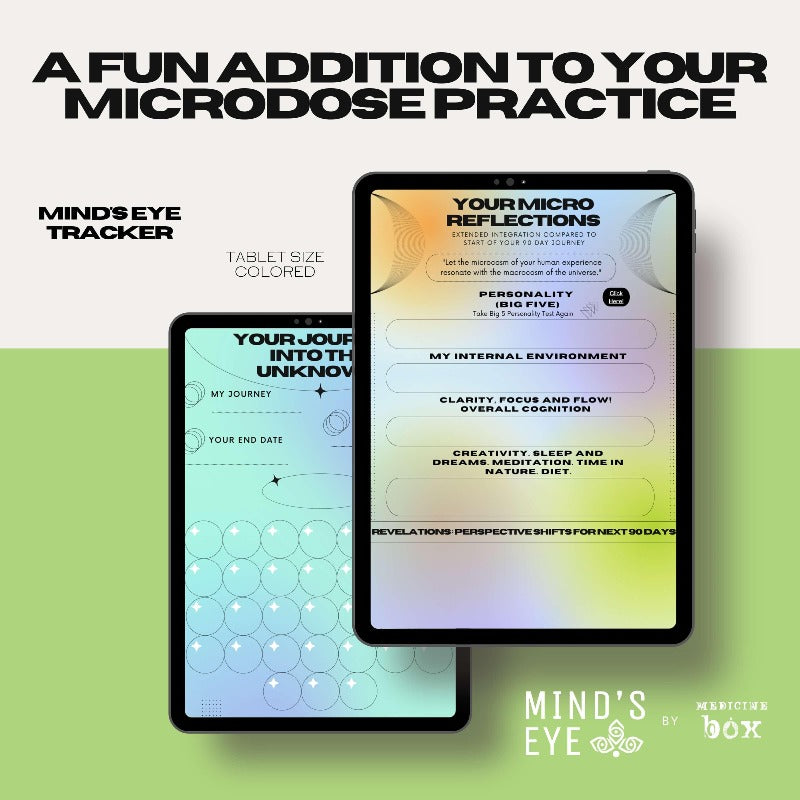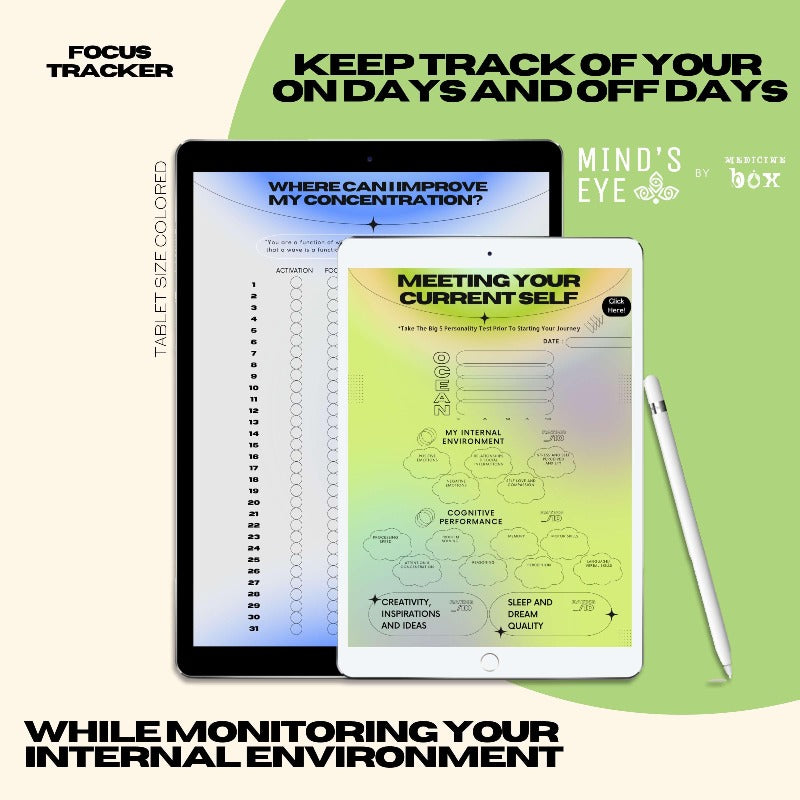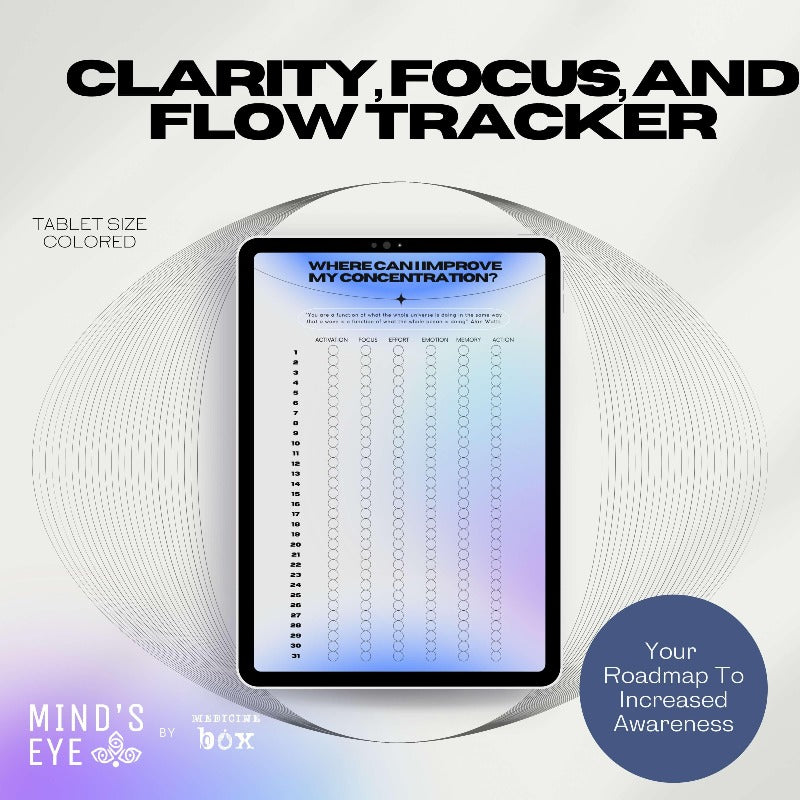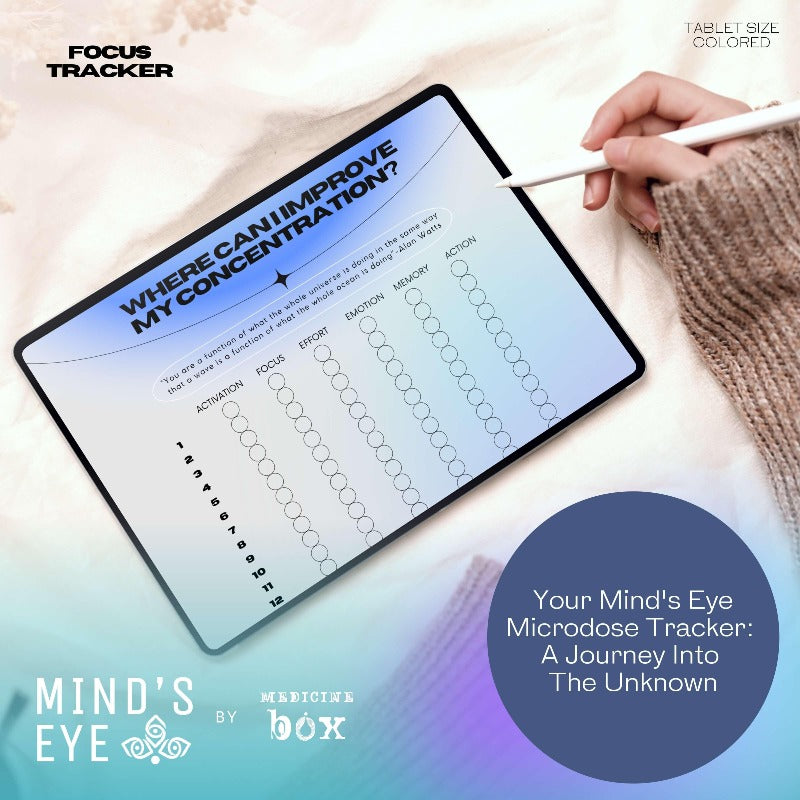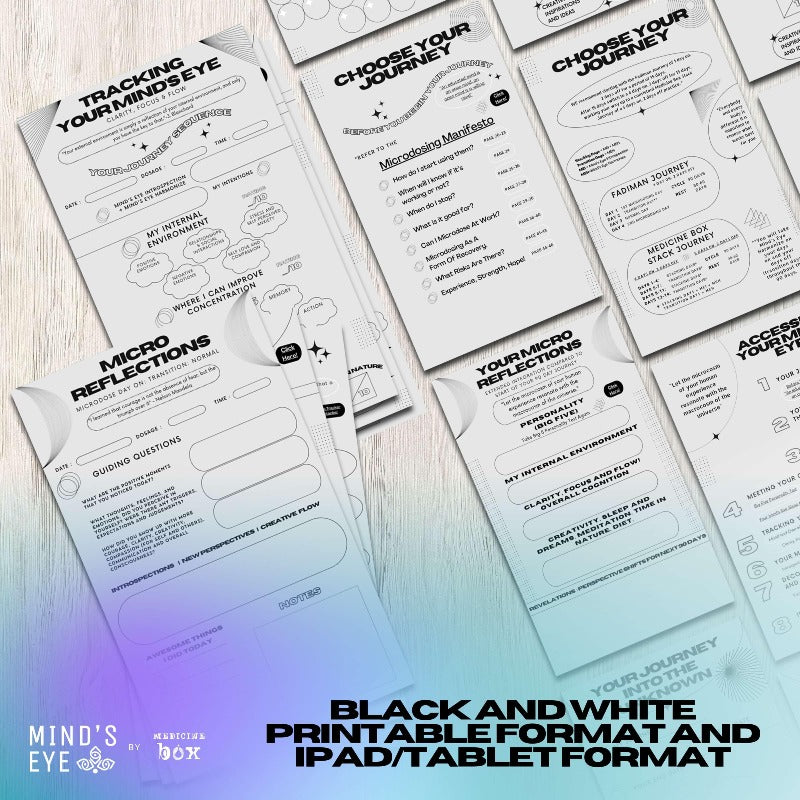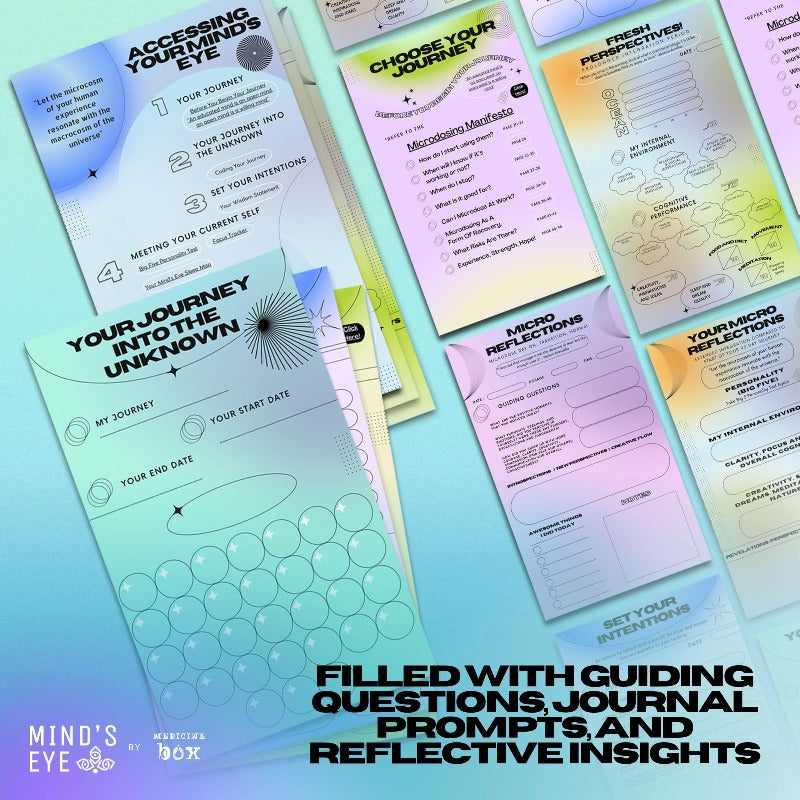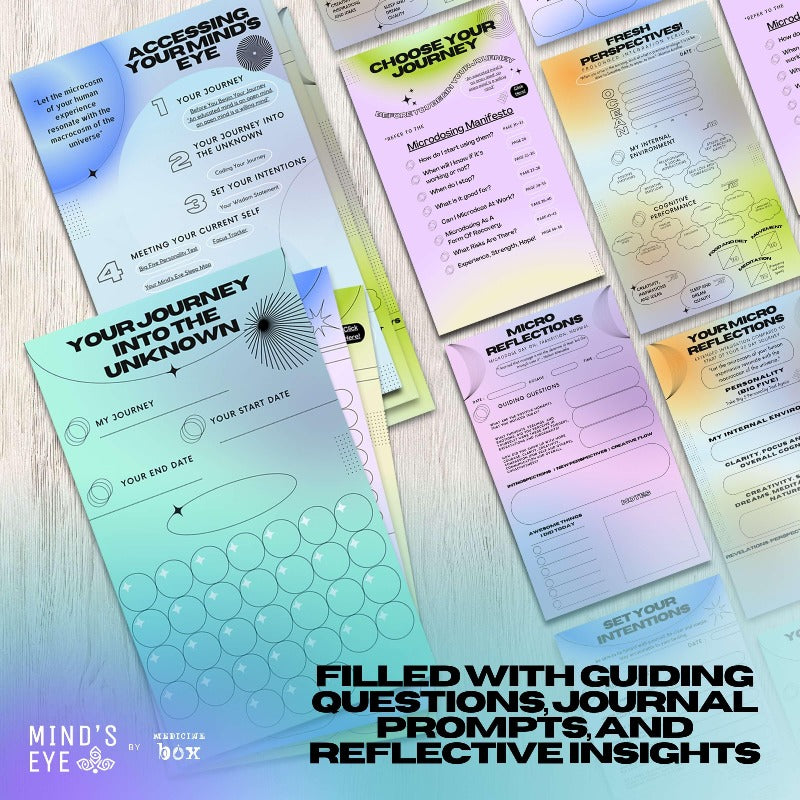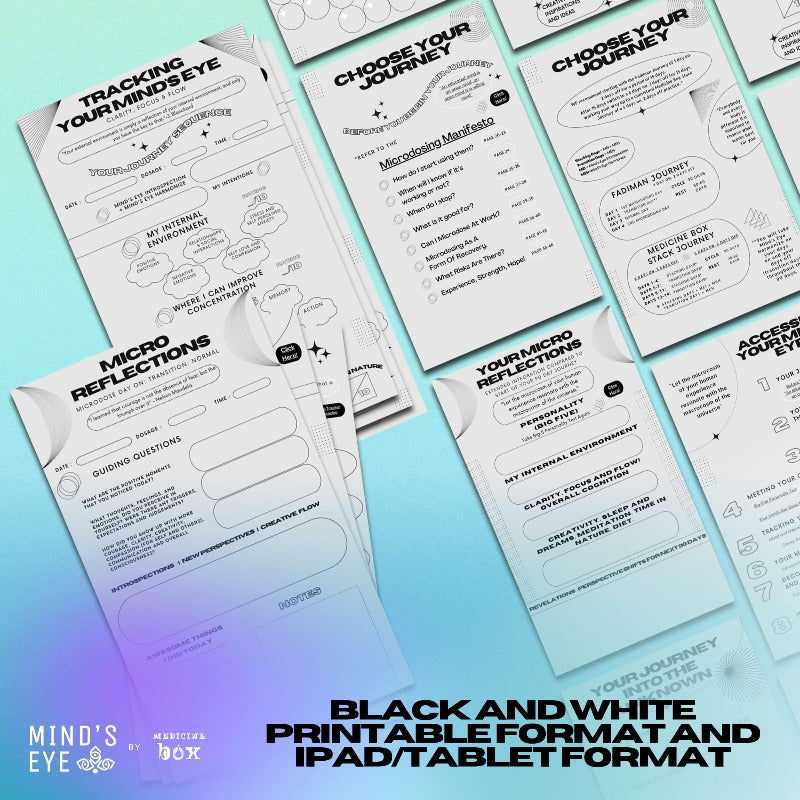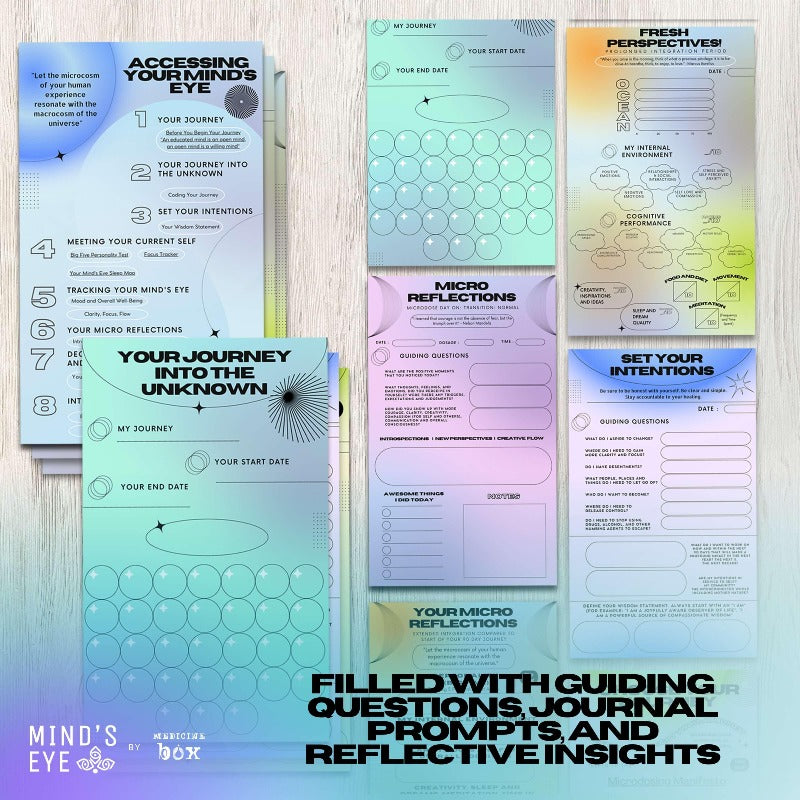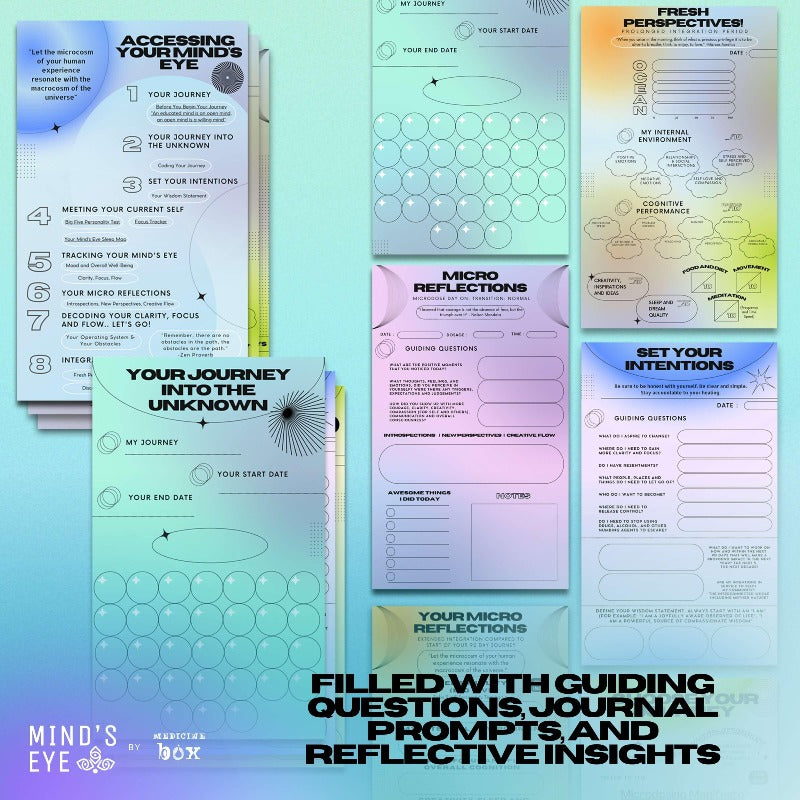 Your Minds Eye Micro Tracker
Description
"You stumbled plenty but you still walked uphill. And that's more than most."
NOTE: this Mind's Eye Micro Tracker is best used with the Mind's Eye Introspection (use password INTROSPECTION) and Mind's Eye Harmonize products as well as our custom Mind's Eye by Medicine Box Journal. 
WHAT'S IN THE MICRODOSE TRACKER?
Greetings! This is Accessing Your Mind's Eye with the Mind's Eye Microdose Tracker by Medicine Box. In this workbook you will gain the clarity of choosing your journey while tracking the frequency and consistency of your microdosing. Weather that's a 30-60-90 day journey, this easy to use workbook, filled with the behavioral exercises used in synergy with a consistent microdose practice, will guide you to a place of deeper clarity and understanding of your internal environment. 
Use this workbook and it's fun and engaging prompts to navigate yourself through concentration exercises (a bonus focus tracker is built in), a personality test, how to overcome obstacles along the path while you embark on your transformative journey. Learn how to properly track your use while developing your wisdom statement and setting intentions with short and long term goals for yourself while you code your stress levels and emotions (yes, "stuff" comes up while microdosing and it's helpful to make meaning out of this)! See where you can improve your sleep, time in nature and overall cognitive performance by tracking your progress with the Mind's Eye products.
As you move along your journey in this workbook, you will be given the opportunity to engage in what WE call "micro reflections" to aid you in shifting your perspective while gaining the proper revelations to integrate positives change in your life for the momentum you crave!
Remember, "this is a thing to get you to the thing and that thing is YOU!"  Our products are designed to be most effective in combination with the behavioral exercises and lifestyle changes outlined in this workbook as well as journaling (with the Mind's Eye journal), tracking consistency, developing a mindfulness practice (meditation, breathwork, diet etc.) and learning how to integrate these new found discoveries into your life for a positive impact for yourself and those around YOU. 
WHAT YOU RECEIVE:
1.) A colored PDF workbook of the Micro Tracker that can be notated on any iPAD or tablet. 
2.) A printable black and white version if you choose to print this out and use pen or pencil. 
3.) A colored and black and white PDF version of our FOCUS TRACKER (also linked in the MICRO TRACKER PDF).
4.) Links to the Big 5 Personality Test (*Medicine Box does NOT provide this service, it is a suggestion that we highly recommend)
5.) A one hour tutorial video (with subtitles) of our founder describing how to use this workbook to get the most out of it. 
HOW TO ACCESS:
In your e-mail INBOX (after your order), click the file named "Thank You! Your Micro Tracker Instructions Guide" for your instructional video on how to use your digital Mind's Eye Micro Tracker as well as how to download the tracker. 
You can also upload it (if you choose) to your "Goodnotes App" https://www.goodnotes.com/  (this app makes it possible to keep notes, write and scribble your thoughts into) *Medicine Box does NOT provide this app, it is only a suggestion. 
Download the digital workbook by clicking on the PDF file named "Minds Eye Tracker :Colored (iPad Mini)" in your e mail inbox. 
HOW TO USE:
Take your time to review the PDF first to familiarize yourself with its contents (there's a lot)! It may be overwhelming at first but just like anything new and exciting, give yourself the chance to slowly engage with this workbook. 
As our spiritual advisor Michael Hollister would always say "there's no right way, or wrong way, just a lot of different ways to do something" You will receive a video of our founder describing our suggested use of the tracker, however if there's a different way that works for YOU, by ALL means, GO FOR IT!
WHAT YOU'LL LEARN:
Remember, every body and everybody is different. Results will vary from person to person and you get out of this what you choose to put in. It is our hope that when combining the behavioral exercises and lifestyle shifts in this tracker, along with the Mind's Eye products that you will gain a deeper awareness of self, more clarity, creativity, courage, and compassion, while those around you experience meaningful conversation with you from a new and improved state of consciousness. 
After your 90 day journey, WE hope the micro reflections, revelations and new discoveries can be positively integrated into your life for lasting change. From this new perspective and its prolonged feelings of wellbeing, the results are an unwavering new perspective for your life. 
PLEASE NOTE:
This is an instant digital download, so NO physical products will be sent to your address (unless you ordered the Mind's Eye supplements).
ALL sales are final as digital products can not be returned.
For personal use only. 
WE'D LOVE TO HEAR FROM YOU!
WE always love to hear from our customers. If this tracker and your transformative journey is meaningful and impactful for you, please drop us a line at support@medicineboxwellness.com 
We'd love to give you a 50% discount on your next purchase for providing us with a genuine and transformative testimonial. 
Happy journeying,
Medicine Box
Our Mind's Eye Introspection product is made with an intentional formulation of six adaptogenic mushrooms (Lion's Mane, Turkey Tail, Reishi, Chaga, Cordyceps and Agarikon), five botanicals (Ashwaganda, Holy Basil, Bacopa, Sea Moss and Turmeric) and two essential nutrients (Magnesium L-Threonate and Niacin) and one introspective compund at a total concentration of 500 mg
As artisanal wellness alchemists, we've worked with medicinal plants and fungi for years in the proverbial vineyards, while experts like Paul Stamets, Michael Pollan and Dr James Fadiman spread the word. We wanted something that would provide cognitive function and feelings of interconnectedness but without the anxiousness other nootropics can produce. For example, we balanced out the formulations brain-stimulating mushroom adaptogens with the soothing botanicals of Ashwaganda and Holy Basil, all working in synergy.
This product is intended for humans that are seeking toharmonize their relationshipwith themselves, with others and with Mother Earth. It is beneficial for anyone who is seeking tolive more in the present moment, free from distractions while reducing anxiousness.

If you have heart issues, high blood pressure or are sensitive to simulating effects, we recommendconsulting your primary care providerbefore taking these products.
We recommend you take one capsule per day of the Mind's Eye Harmonize. This plant-based nootropic is perfect as both a standalone mental improvement supplement and a complement for any microdosing protocol.
The effects are prolonged feelings of wellbeing brought on by a sense of creativity, productivity, accomplishment and reduced anxiousness with self and others. This is a personalized, yet community-centric program. Everybody and every body is different and results vary from human to human.

For a more in depth exploration of receiving guidance with this product with our "Medicine & Mentorship" program, please reach out to support@medicineboxwellness.com with "Mentorship" in the subject line.
The Mind's Eye Harmonize formulation was designed to remove the nausea of a microdosing onset, while extending its benefits throughout the entire day. If you are embarking upon the Medicine Box Micrdosing Protocol, we recommend a 90-day bundle of the Mind's Eye Harmonize (three packages) to experience the full spectrum of experience with your fungal friends and plant allies.
E-mail us at support@medicineboxwellness.com to inquire about integration coaching services with our accredited partners.
We estimate 3-5 days with USPS First Class Mail to reach most areas in the United States. After purchasing your order, you will get a confirmation email with a tracking number to assist you in following your package.
If your order was never received, well, that ain't right. Please respond back with your order and tracking number to support@medicineboxwellness.com with subject line MISSING ORDER. Unfortunately, the USPS misses a few three-pointers here and there, so we'll do our best to track it on our end. If we can't do so and you'd like a replacement, please let us know within 72 hours.
For now, the best way to obtain our products is to order off of our website. However, we are working to get our products into stores.
To get the ball rolling on returns, send us an email and fill out the subject line with RETURN or REFUND and send it to support@medicineboxwellness.com.
NOTE: For our full refund policy, read this page: REFUND POLICY
Not yet! But we're working on it. In the meantime, drop a line and let us know if you need Medicine Box in your region.
We do not process payments for products containing CBD coming from the following countries: China, Hong Kong, Iceland, Iran, Israel, Japan, Malaysia, Philippines, Russia, Singapore, Slovakia, United Arab Emirates and India.