1.) Mood Enhancement
Elevate your mood and transform your day with grace and ease, by experiencing the powerful combination of 6 adaptogenic mushrooms, 5 botanicals, 2 essential nutrients and one introspective compound that support your mental and emotional well-being.
2.) Focus On What Really Matters
Experience a new level of mental clarity and unlock your full microdosing potential with our exceptional 14 in 1 microdose blend containing mind and body expanding compounds such as Lions Mane, Ashwagandha, Brahmi, and Magnesium-L-Theronate and more!
3.) Shifts In Perspective
Broaden your understanding of yourself, overcome mental barriers, and approach challenges from a new perspective, leading to personal growth and self-discovery.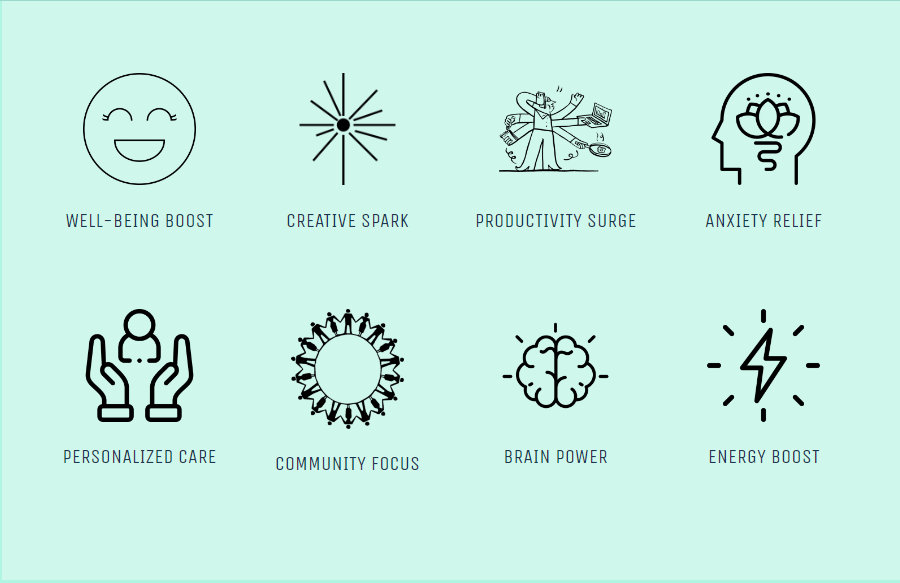 From Chaos to Clarity
How Microdosing With Mind's Eye Introspection Became the Answer to Anxiety for Thousands!
1. Customer's Story:
"I used to feel very sad and worried all the time. Everything was hard for me. I tried many things, but nothing worked. No amount of therapy, meditation, or prescription meds seemed to do the trick. Then I found Mind's Eye Introspection. It was like a light in the dark and it has really helped me."
2. What is Mind's Eye Introspection?:
Mind's Eye Introspection is special. It's not just any product. Microdosing is like chipping away at life's confusions to really understand yourself. This product is made of many good things that work together to help your brain. It helps you think better, focus more, and feel happier. It's like a magic mix to help you be the best you and truly see who you are!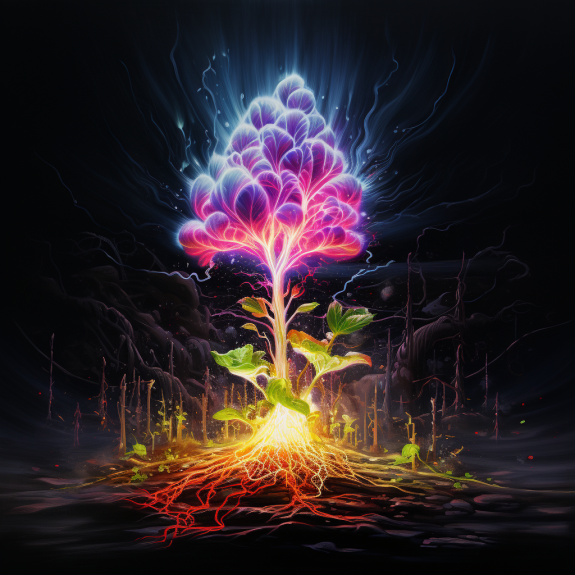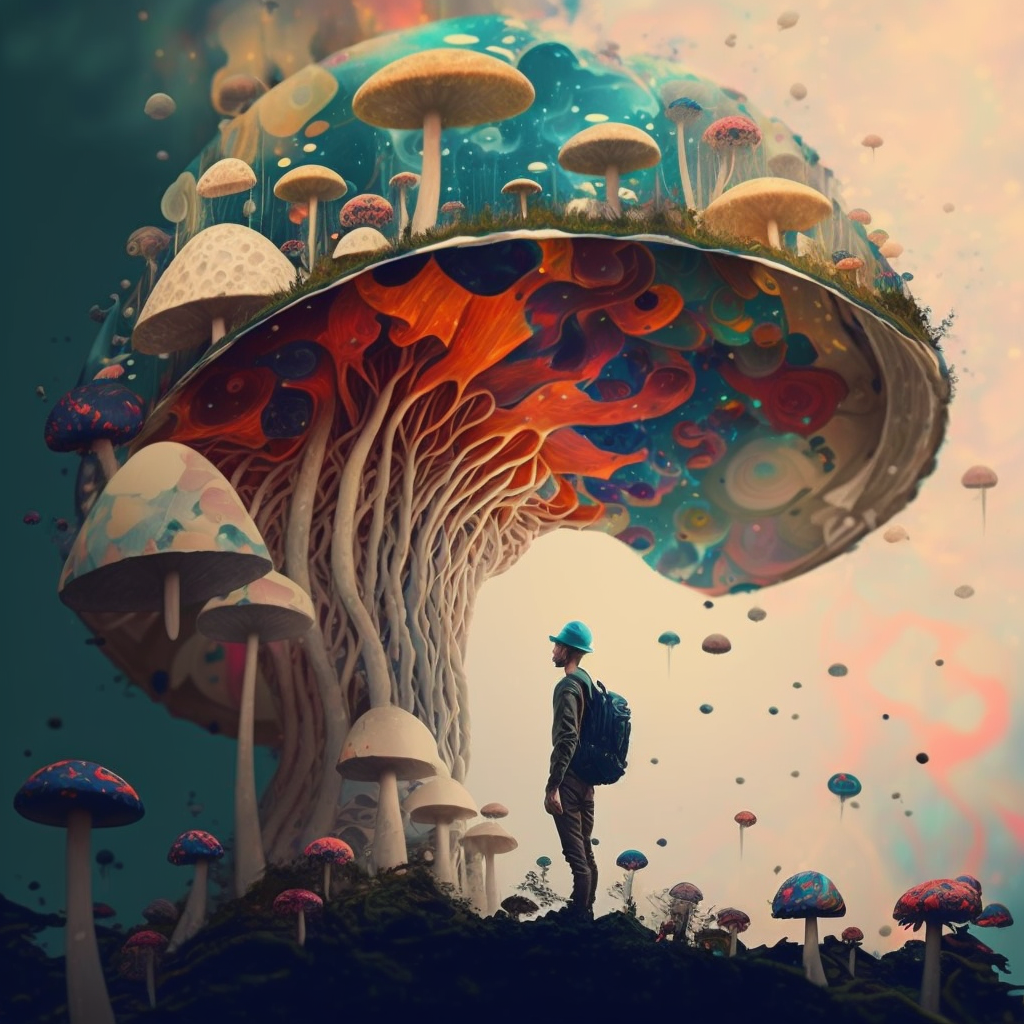 3. The Pain Points Of The Anxious Mind:
Anxiety isn't just a little worry now and then. It's like a constant noise in the background, making you feel uneasy all the time. It makes you think "what if" a lot, lose sleep, and feel stuck. This isn't just in your head; it affects your whole life. From lost chances, problems with friends and relationships, to not enjoying life as much; our anxiety really changes things.
4. Why Is Microdosing With Mind's Eye Introspection Important?:
In today's busy world, with so many screens, constant media distractions, and pandemics, many of us feel confused and super stressed. Mind's Eye Introspection is like a helper in this crazy world. It helps you feel grounded and clear-headed. It's a natural way to find calm and helps you discover your own quiet place of happiness inside. So, when everything feels too loud and messy, this can be your guide to feeling peaceful again.
Unlock  Mental Clarity With Microdosing
5. How is Mind's Eye Introspection Different?:
Lots of microdose products say they can help with anxiety, but Mind's Eye Introspection is different and special. It doesn't just give a quick fix; it helps in a bigger, full way. It's not just something you take; it's something you think about.
With our microdosing starter kit, you get a fun workbook to write about your experience and a 50 page guidebook with helpful tips about how and when to take it. We make sure you're not just fighting anxiety but really understanding and getting better at handling it. Plus, we have an online group of people just like you, taking the same journey, so you're never alone!
6. How Does Mind's Eye Introspection Work?:
This product is special because it mixes the power of nature that's been known for ages with new science. We mix a perfect amount of a microdosing formula with 6 powerful mushrooms, 5 plants, and 2 important nutrients to really tackle the reasons behind anxiety. Think of it like an orchestra, where each part, like Lion's Mane for a healthy brain or Ashwagandha for a calm mind, adds its unique sound. Together, they make a perfect tune to help your mind feel its best.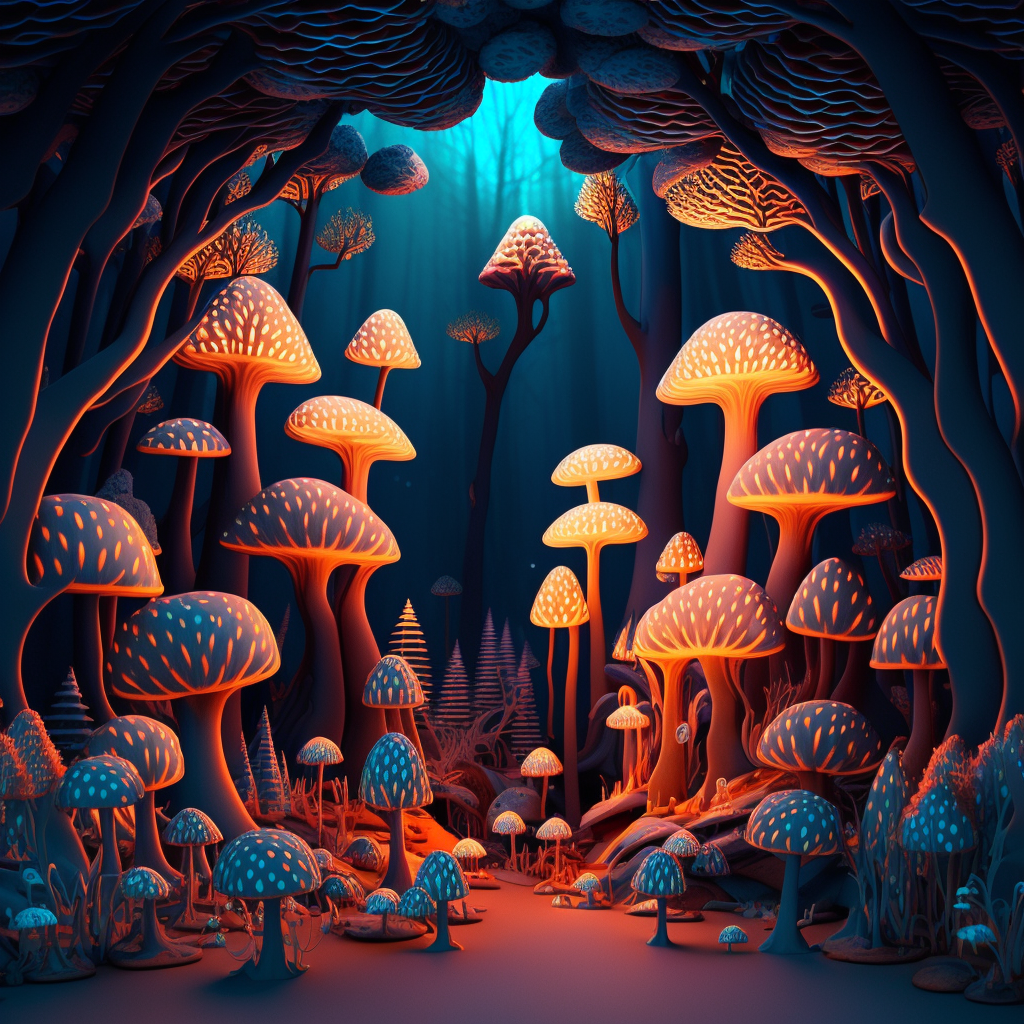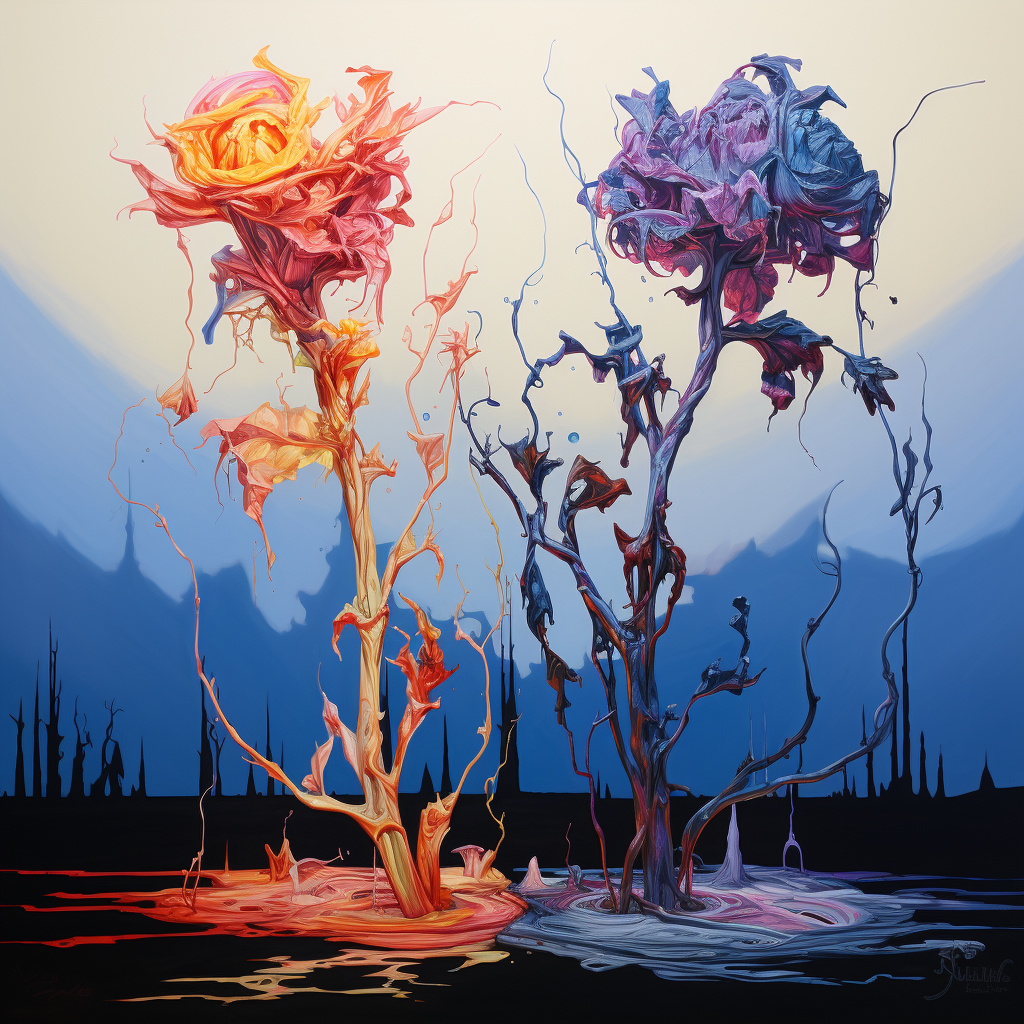 7.How Will Mind's Eye Introspection Change How You Feel?
Think of a life where your mind is like your best friend. If you use Mind's Eye Introspection regularly, you'll start to feel hopeful every morning, have calm and good days, and sleep really well at night. It doesn't mean you won't have problems, but it helps you handle them with a clear head, feeling sure of yourself and in control.
Each serving promises 500 mg of pure earth ingredients that shift you towards a more focused, clear, and self-aware version of yourself. But clarity is not just about taking the microdose. It's about self reflection. And we're not just offering you a product. We're offering an experience.
8. How Will Mind's Eye Introspection Affect Your Life?:
Imagine a life where your mind is your ally, not your adversary. With consistent use of Mind's Eye Introspection, you can anticipate mornings that greet you with promise, days that are productive yet peaceful, and nights that offer genuine rest. It's not about living without challenges, but about facing them with clarity, confidence, and control.
Key Benefits:
🌿 Holistic Healing: Address not just symptoms, but the root cause of anxiety.
🌿 Nature-Powered Potency:: A blend of 100mg microdose + 6 adaptogens + 5 botanicals, and 2 essential nutrients.
🌿 Enhanced Mood & Focus: Feel rejuvenated, clear-headed, and emotionally balanced.
🌿 Cognitive Clarity:: Sharpen your mind and improve decision-making capabilities.
🌿 Natural Resilience: Fortify your mental stamina against everyday stresses.
🌿 Deepened Self-Awareness:: Foster a profound connection with your inner self for transformative growth.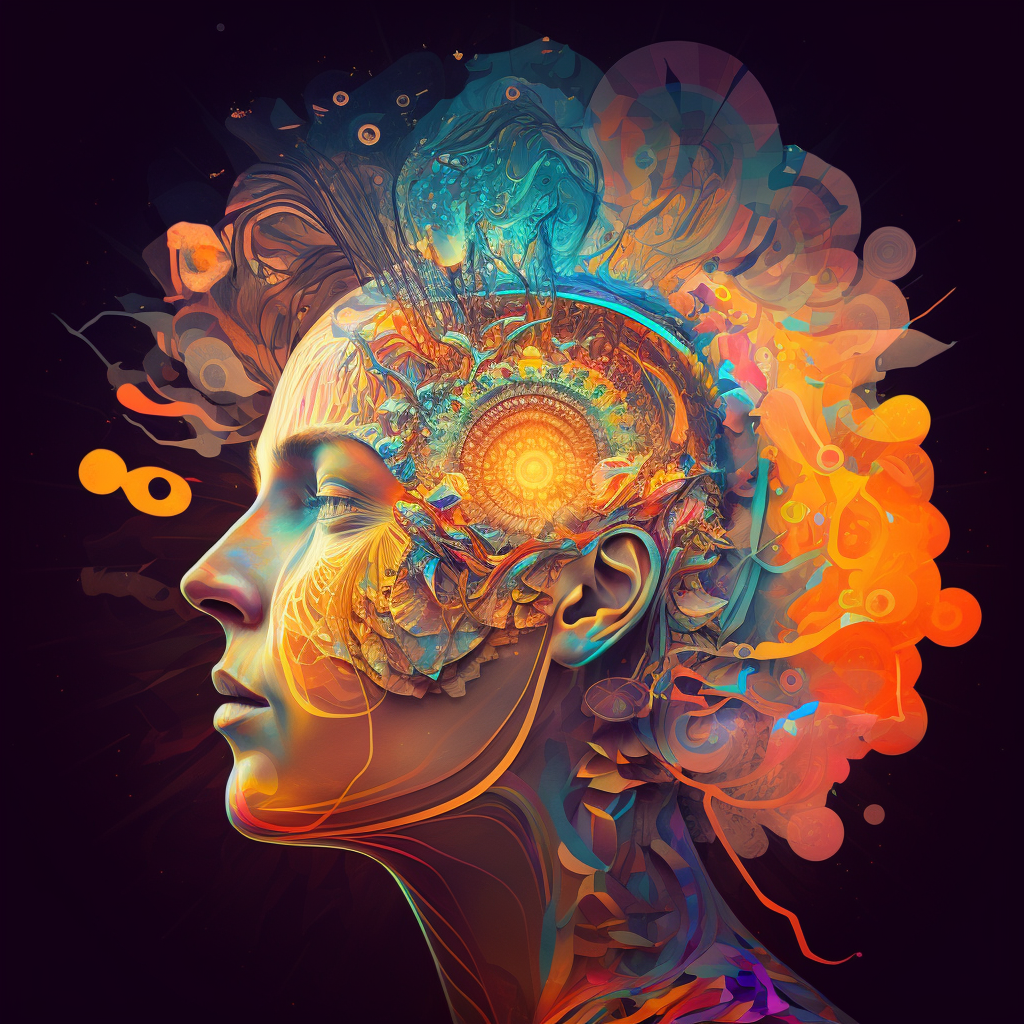 From Their Shopping Carts To Their Hearts:
Customer Stories!
"My creativity has expanded."
Yeah, my creativity has expanded. I feel like I function on a better level; that I am kinder and softer, my edges are smoother. I've always been a nice person. But of course, my edges have just softened.
-Krista P
"Give myself these 30 days to have some self discovery."
"I appreciate your careful sourcing of ingredients for your products. It's important to me to know where my products come from. This drew me in, and while I've tried mushrooms and microdosing before, I wanted a more structured approach.
Your 30-day program offered me that chance for self-discovery."
-Irene T
"It gave me the filter that I've never had."
"These capsules truly provided a filter I've never experienced before, and the results have been amazing. The effects didn't manifest immediately; they were subtle and developed over time.
It's essential to give it the full course and remain patient, understanding its gradual nature. Alongside the medicine, personal efforts are still required.
Now, six months later, feelings of depression are largely absent. While I have occasional moments, I generally feel good. It's been an awesome journey."
-Amy
"90 Days-It's just a great chunk of time for this practice."
"Since I am a user of all Medicine Box things, I was fortunate enough to get one of your emails. And I think in it, you had just mentioned, "are you just feeling stuck?" And that line in itself to me was just like, holy S*%T, yes, I'm stuck. Like how am I going to get out of this?
I have no idea how. And that's when I immediately turned around and was like, oh, send me, send me the microdosing this way!
And that's when I started my journey. So I'm doing the 90 day journey. And right now I am on day 66. 90 days is a season, right?
So it's, it's equinox to solstice, solstice to equinox, or it's a quarter, 12 weeks, three months. I mean, it's just a great chunk of time."
-Ana A
"It's not like a fix all, but it's an opportunity to help you go within more."
"Just so you know, coming at it with an open heart and open mind and a willingness to remember that it's not a fix all, but it's an opportunity to help you go within more, and just show you  what you already know.  
I love the product. I love what you all stand for. I think that's the thing that drew me to the brand, reading everything on the website. I was like, "yes, this is it!"
II love what y'all are doing. I think it's amazing."
-Ariel Z.
"I now know how to be here and nurture myself through this experience."
"I talked about it probably too much. I'm definitely trying to spread the love because it has changed my life. I think it has that potential for everyone.
So if you're on the fence, do it, get yourself some goodies. I'd like to emphasize a point you made. While previously I was merely "dealing" with my trauma, now I'm on a path to "healing" from it. I recognize that it might never completely disappear, but the approach has shifted.
Like you said, the grief is always going to be there in some form. But getting to this place where it is no longer something that I have to deal with. And instead of that feeling of just like, oh shit, here it is again, I now know how to be here and nurture myself through this experience."
-Liz S
Start with our microdosing kits of 30, 60, or 90 servings.
Self Awareness...Achieved.
Perks of Embarking on this Journey
Bonus #1
FREE Microdose Tracker
NO confusion Microdosing Log: Track doses, feel the change

Results In Focus: See the micro magic unfold

Swift insights: Your micro journey, minus the confusion

Choose Your Protocol: Determine your personalized microdosing practice using the Mind's Eye Micro Tracker.

Track Your Progress: Record your microdosing use, set goals, and monitor stress levels and emotions.

Understand Your Anxiety: Gain clarity on your inner feelings and navigate life's challenges with targeted concentration exercises.

Celebrate The Wins: Acknowledge positive changes and integrate them into your routine using micro reflections.

Integration Time: Monitor changes in focus, sleep, and energy, complemented by recommended practices.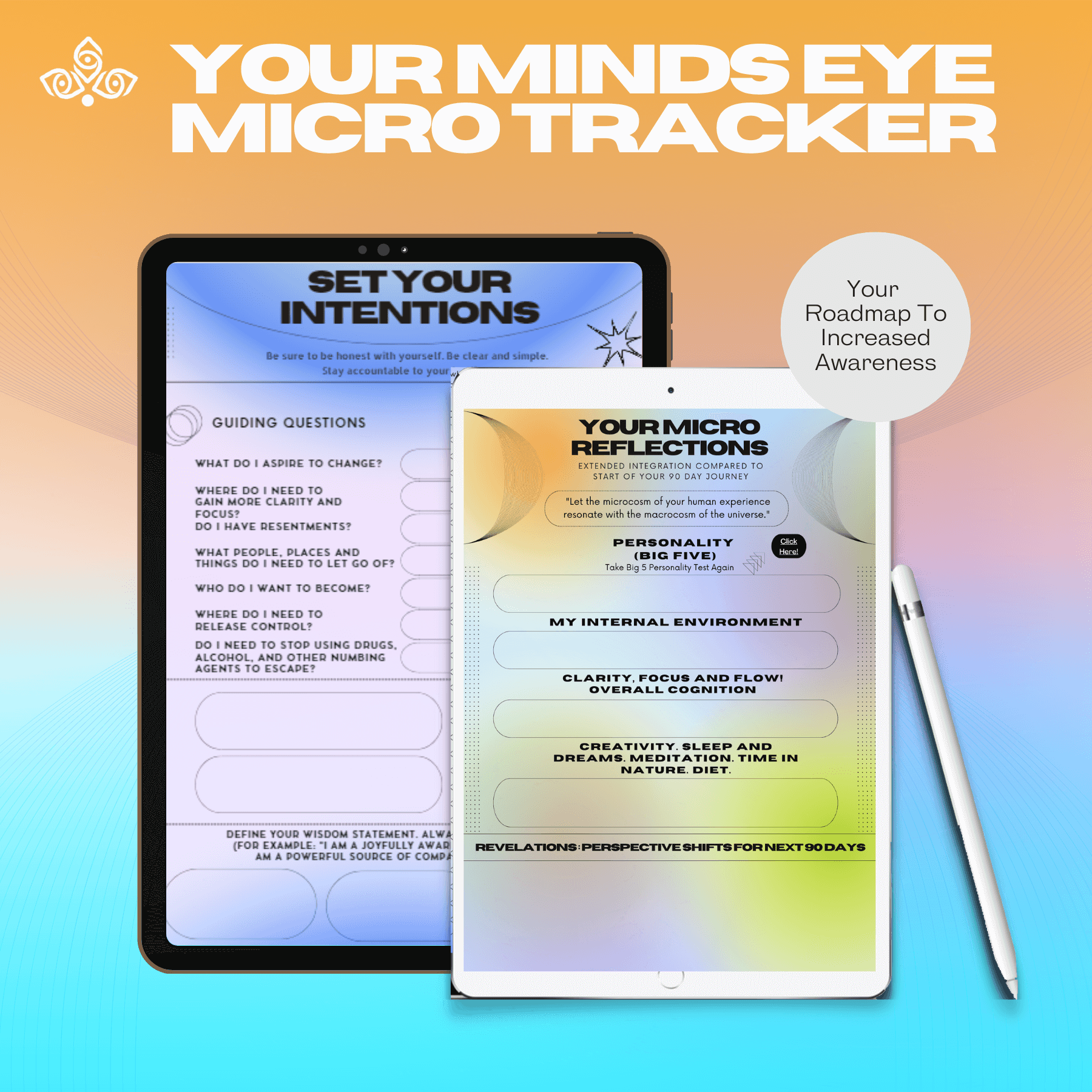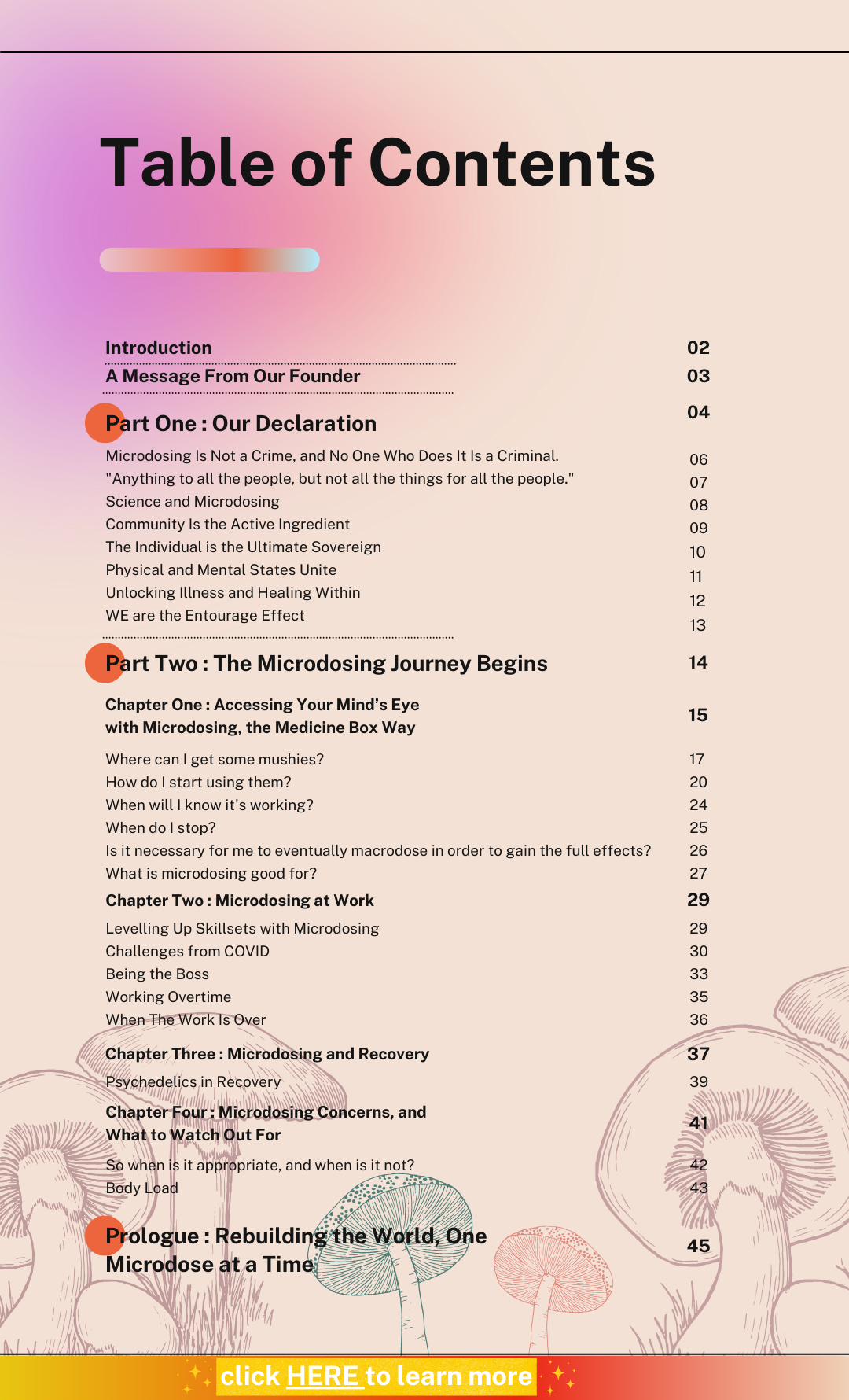 Bonus #2
FREE E-Book - Microdosing Guide For Beginner's
Microdosing history: Discover where and how the practice of microdosing began.

Mindful dosing: Discover the importance of setting intentions & creating a safe environment.

Master protocols: Understanding frequency and consistency.

Key benefits of microdosing: Understand the positive impacts of microdosing on society

Conscious exploration: Gain the tools and techniques to reflect upon, and guide your introspective journey.

Microdosing advantages: Understand how microdosing is changing discussions about mental health.
Bonus #3
We Pay Shipping!
Bonus #4
100% Money Back Guarantee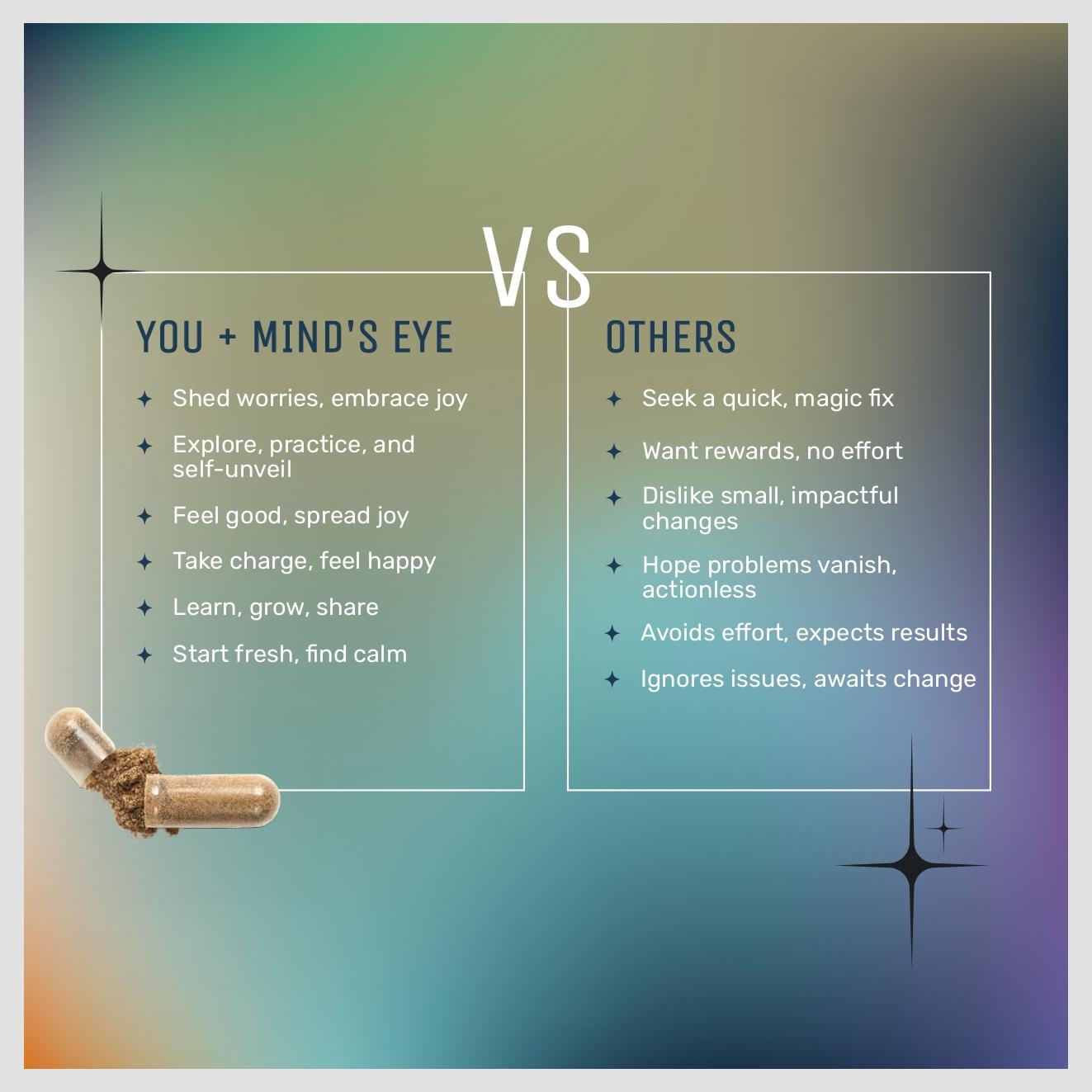 Here's Where The
Introspection Happens
Introspective Compound
Facilitates neuroplasticity 🍄, promotes mood stability, and initiates transformative shifts in
perspective, leading to prolonged feelings of well-being.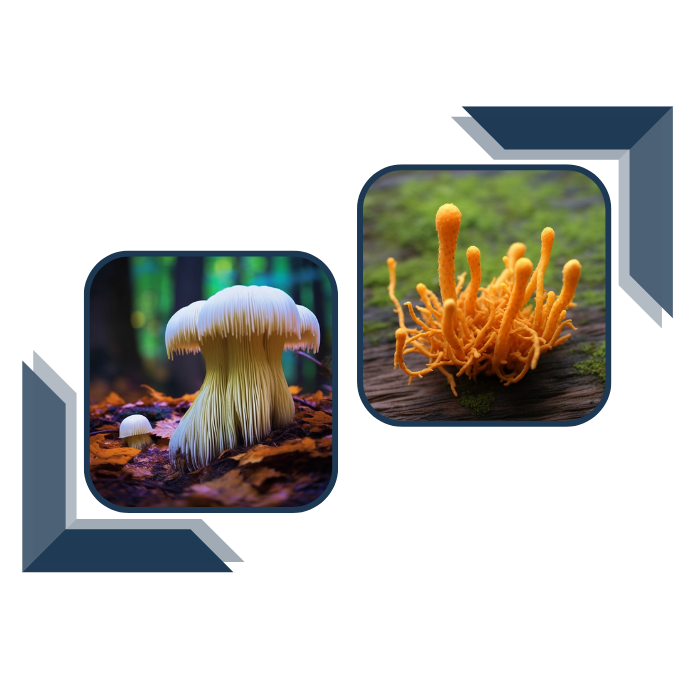 Lions Mane & Cordyceps
Experience the blissful benefits of improved brain power and radiant circulation support. Promotes a healthy mind, uplifted mood, and reduced inflammation.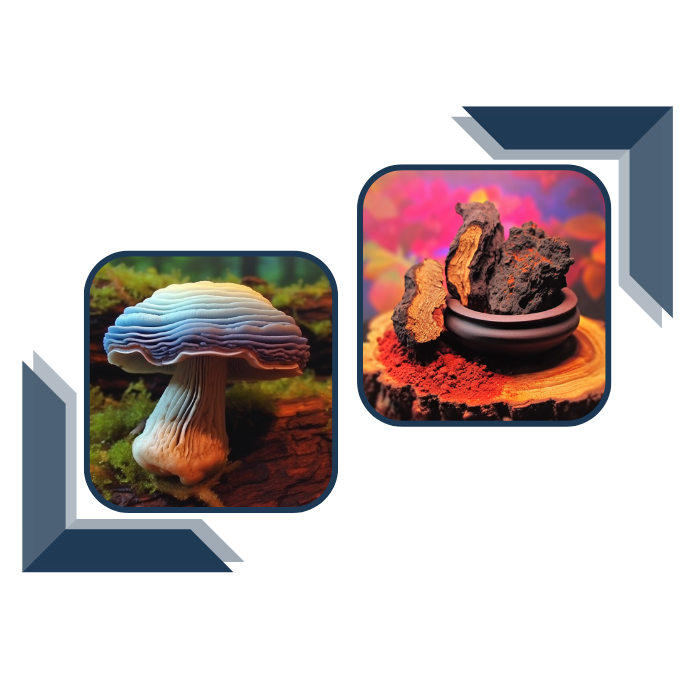 Agarikon & Chaga
Rejuvenate your body and mind with this mushroom combo, offering vitality enhancement, antioxidant support, and inflammation reduction.
Turkey tail & Red Reishi
Elevate your well-being with our potent vitality booster, combating low energy, fatigue, and inflammation while promoting optimal gut health.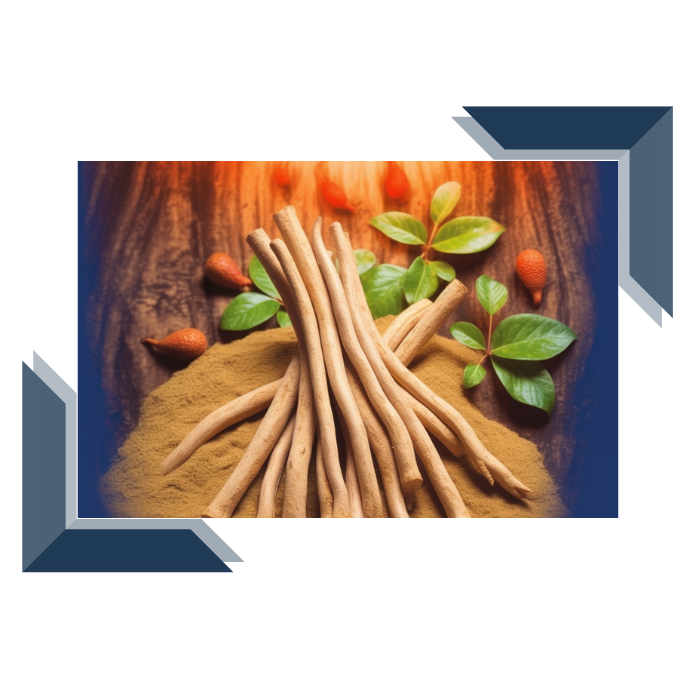 Ashwagandha
Experience the wonders of Ashwagandha, a natural powerhouse known for its neuroprotective properties, cognitive support, and mind-calming benefits.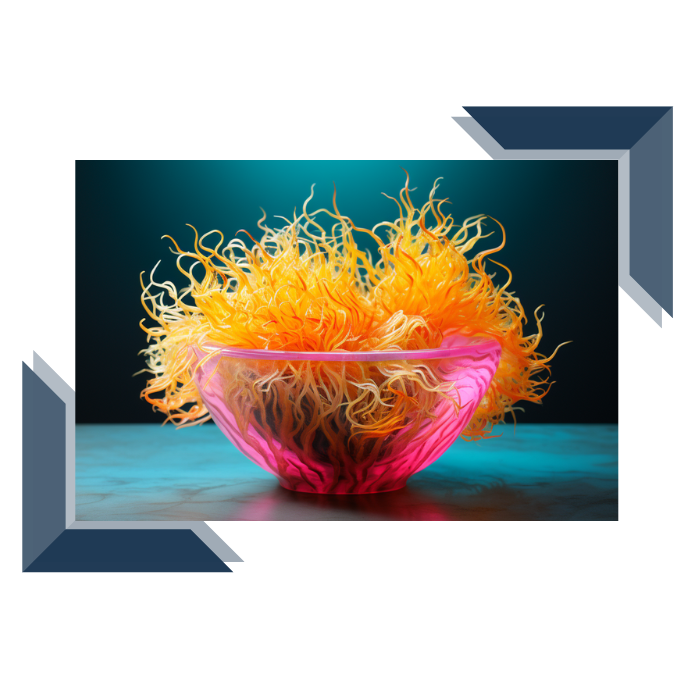 Sea Moss
Tames uneasiness, rich in polysaccharides, acting as a neuroprotectant, and supports energy recovery.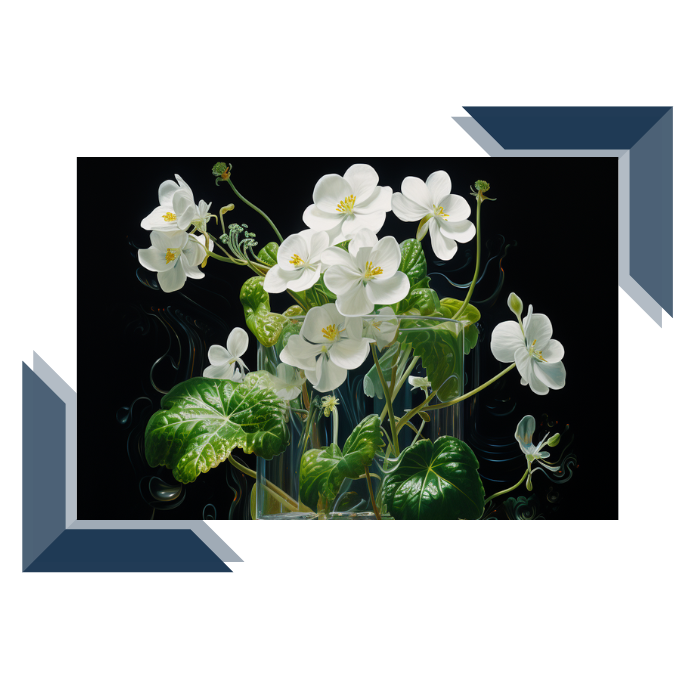 Brahmi
This remarkable botanical improves focus, reduces uneasiness, provides antioxidant support, and brings about a calming effect, offering you a tranquil state of mind.
Holy Basil & Turmeric
A dynamic duo that provides a rich source of vitamins C, A, and K,
relieving tension and promoting overall well-being.
Combats degenerative processes in the brain and offers
potent anti-inflammatory support.
Mg L-Threonate & Niacin
Unique water-soluble nature, ensuring rapid absorption and
efficient processing of other ingredients into energy. Feel the
mental fog lift as they work synergistically to enhance clarity
and reduce mental fatigue.
Holy Basil & Turmeric
A dynamic duo that provides a rich source of vitamins C, A, and K, relieving tension and promoting overall well-being. Combats degenerative processes in the brain and offers potent anti-inflammatory support.
Mg L-Threonate & Niacin
Unique water-soluble nature, ensuring rapid absorption and efficient processing of other ingredients into energy. Feel the mental fog lift as they work synergistically to enhance clarity and reduce mental fatigue.
FREQUENTLY ASKED QUESTIONS ABOUT MIND'S EYE
Minds eye
I haven't noticed any significant effect
YES!
Great formulation.....Great product.....Great brand!
Phenomenal!
Clean, vibrant and effective. My clarity and focus has leveled up!
Great product!
I have been using your product for the past week and am very happy with the results. I feel positive, productiive and energetic! I will order again and am happy to recommend this to others.